IASbhai DAILY UPSC CURRENT AFFAIRS  (THE HINDU+LIVEMINT+PIB)
Dear Aspirants

IASbhai Daily Current Affairs for UPSC is an initiative to dilute major articles from leading Newspapers in India which are most relevant to UPSC preparation –'THE HINDU, LIVEMINT , INDIAN EXPRESS' and help millions of readers who find difficulty in answer writing and making notes everyday. Hence we choose articles on daily basis and analyse them with respect to UPSC PRELIMS2020.
Don't be pushed around by the fears in your mind. Be led by the dreams in your heart.– Roy T. Bennett
India signs $1.5 billion loan with ADB
      HEADLINES:
India signs $1.5 billion loan with ADB to support India's COVID-19 immediate response
      WHY IN NEWS:
The Government of India and the Asian Development Bank (ADB) today signed a $1.5 billion loan that will support the government's response to the novel coronavirus disease (COVID-19) pandemic, focusing on immediate priorities such as disease containment and prevention, as well as social protection for the poor and economically vulnerable sections of the society, especially women and disadvantaged groups.
SYLLABUS COVERED: GS 2 : ADB : IR
      LEARNING: 
For PRELIMS here you have to take a quick revision on ADB !
For MAINS go through the various ways this will impact the existing scenarios.
      ISSUE: 
HOW THESE FUNDS WILL HELP INDIA ?
"ADB's financial and technical support will contribute to the sound implementation of the government's far reaching emergency response programs launched in March 2020."
This will  support India's emergency needs for the health sector while alleviating the economic impact of the pandemic, as well as short- to medium-term measures to restore the dynamic economic growth of the country by exploring all available financing options.
"ADB is glad to support India's bold measures to contain the COVID- 19 pandemic outbreak while protecting the most vulnerable people affected by movement restrictions, by fast-tracking and delivering the largest ever loan to India.
The CARES Programme is provided as the first support to meet the immediate requirements of the government.
Building on the CARES Programme, ADB is also in dialogue with the government for further possible support for stimulating the economy, support strong growth recovery, and to build resilience to future shocks.
MSME integration into global and national value chains through enterprise development centers, and
a credit enhancement facility for infrastructure projects.
Strengthening of public service delivery will be another important agenda,
Including the extension of comprehensive primary health services in urban areas, and of secondary and tertiary health care systems through PPP modalities.
      IASbhai WINDUP: 
ADB's timely assistance for the government's immediate response measures to the coronavirus pandemic to implement
(i) COVID-19 containment plan to rapidly ramp up test-track-treatment capacity, and
(ii) social protection for the poor, vulnerable, women, and disadvantaged groups to protect more than 800 million people over the next three months.
     

SOURCES:THE HINDU & PIB/DAILY CURRENT AFFAIRS for UPSC CSE Prelims & Mains
Mobile kiosk for COVID-19
      HEADLINES:
Agartala Smart City uses mobile kiosk for COVID-19 sample collection
      WHY IN NEWS:
Agartala Smart City has designed and handed over a Mobile COVID-19 sample collection kiosk to city's Chief Medical Officer (CMO).
SYLLABUS COVERED: GS 3:Diseases:Recent innovations
      LEARNING: 
For PRELIMS go through this innovative solution .
For MAINS do you think we can implement the same on large scale in urban areas ?
      ISSUE: 
This initiative was taken by the Municipal Commissioner, Agartala Municipal Corporation, who is also the Chief Executive Officer (CEO) of Agartala Smart City Limited.
Mounting of the kiosk on three wheeler vehicle enables it to navigate through narrow lanes & helps collection of samples from community itself.
There is no need for patients to come to hospital for giving sample.
The kiosk also facilitates

mass testing

of larger number of people in a shorter time frame.
      IASbhai WINDUP: 
This initiative is a major step by Agartala in the fight against Covid-19.
     

SOURCES:THE HINDU & PIB/DAILY CURRENT AFFAIRS for UPSC CSE Prelims & Mains
Early Warning Early Action (EWEA) report
      HEADLINES:
Over 5.3 mln can face hunger in Burkina Faso, Mali and Niger by August: FAO
      WHY IN NEWS:
Farmers and pastoralists affected by internal conflicts, poor access to markets. COVID-19 could aggravate food insecurity 
SYLLABUS COVERED: GS 1:3: Hunger :Malnutrition : FAO
      LEARNING: 
For PRELIMS go through the key observations made by FAO here for central Africa.
For MAINS go through suggestion in windup !
      ISSUE: 
REASONS FOR FOOD INSECURITY :
The three countries are likely to fall under high-risk zones in the coming months.
Alarming levels of internal conflicts, insecurity and an early lean season affecting agro-pastoral activities are touted to be responsible for an unprecedented displacement and food insecurity in these countries, according to the FAO.
Nearly 1.2 million people have already been displaced by internal conflict and violence in these countries.
Insufficient rainfall this year as well is bound to affect pastoralists living in vegetation-deficit Niger and Mali.
Niger experienced a 40 per cent deficit of dry-biomass required to feed animals.
OTHER CONSTRAINTS:
High-risk countries are those that face significant deterioration during a crisis, with potentially severe effects on agriculture and food security.
These include displaced pastoralists who destocked their herds because they could not access pastures and water.
Poor rainfall last year aggravated the situation for these pastoralists in Centre-Nord and East regions of Burkina Faso.
The temporary closure of the border with Benin made the situation worse for agro-pastoralists in these two countries.
Internal conflicts are also likely to

worsen access to land and agricultural inputs

in May and June.
COVID-19 EFFECT:
The three countries are also in the grip of the novel coronavirus disease (COVID-19) epidemic.
Movement of herders and livestock has been restricted due to closure of international borders.
      IASbhai WINDUP: 
The governments were advised to provide social protection to strengthen livelihoods and purchasing power of the vulnerable.
They were also advised to safeguard food supply chains, including the cross-border movement of food.
It called upon the government to assist displaced people in distributing agricultural inputs and improved access to markets.
The national governments, too, have been advised to upscale cash-for-work activities focused on rehabilitation of degraded lands and rural infrastructure.
The FAO suggested commercial destocking for weak animals in areas with high concentration of livestock and limited access to pasture.
At the same time, water and feed to core breeding livestock needed to be scaled up.
     

SOURCES:THE HINDU & PIB/DAILY CURRENT AFFAIRS for UPSC CSE Prelims & Mains
Animal poaching registers a sharp increase during lockdown
      HEADLINES:
Animal poaching registers a sharp increase during lockdown
      WHY IN NEWS:
Besides chinkaras and blackbucks, poachers have targeted peacocks, grey francolins in Rajasthan
SYLLABUS COVERED: GS 1:3: Bhakti Movement : Fauna: Conservation of Bio diversity
      LEARNING: 
For PRELIMS the animals mentioned here are all in Least Concerned category ! That makes us research more on other aspects like Bishnoi community and their practises.
      ISSUE: 
Environmental activist Anil Bishnoi tending to an injured chinkara in Rajasthan. Special arrangement.
Besides killing chinkaras and blackbucks, the poachers have targeted peacocks, grey francolins and other birds covered under the Wildlife Protection Act, 1972, as endangered species.
Several of the cases were detected and reported to the forest authorities by the members of the Bishnoi community, which is known for its beliefs associated with nature worship and wildlife conservation.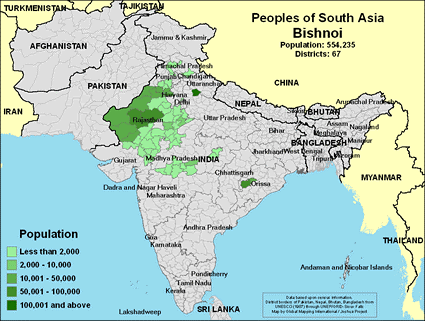 Source: https://joshuaproject.net/people_groups/16464/IN
The Bishnoi sect was formed by Guru Jambheshwar in the aftermath of a severe drought in Marwar (erstwhile Rajasthan) region of north-western India in 1485 AD. The Bishnois considered that their guru was a reincarnate of Vishnu.
Regarded as a great saint, he preached love for all living beings through his 'shabads' (sayings) which are known to be 120 in number and are available as 'shabadvani'.
Jambheshwar strictly prohibited animal killing and cutting of trees.
Other features such as endogamy , restrictions on

commensality

and heredity are important characteristics of caste as a social formation and Bishnois are known to abide by these.
SO HOW CAN YOU BE A BISHNOI ?
All castes and communities, who agreed to abide by these rules, were welcome to join the sect.
      IASbhai WINDUP: 
The chinkaras are usually poached in Rajasthan, allegedly by the Bawaria community, whose traditional occupation is hunting.
     

SOURCES:THE HINDU & PIB/DAILY CURRENT AFFAIRS for UPSC CSE Prelims & Mains
Children miss out vaccination:UNICEF
      HEADLINES:
South Asia faces health crisis as children miss vaccination
      WHY IN NEWS:
Lockdowns halt immunisation, may reverse hard-won gains
SYLLABUS COVERED: GS 3:Health:Immunization
      LEARNING: 
For MAINS do you think there can be a chance of another outbreak in least developed countries of measles or polio ? If yes what is your opinion on immunization approach and lockdown validity ?
      ISSUE: 
Losing out: A boy receiving polio vaccine in Peshawar, Pakistan, in this file photo.
The United Nations children's agency UNICEF said hundreds of thousands were at risk as lockdowns across South Asia halted immunisation drives and parents refrained from taking their children to doctors to be inoculated.
"This is a very serious threat. Early action is key."
Bangladesh and Nepal have halted their measles and rubella campaigns while Pakistan and Afghanistan have suspended their polio drives since the COVID-19 pandemic.
Vaccine stocks were also running low in some countries in the region thanks to lockdowns and travel bans which have disrupted supply chains.
"UNICEF strongly recommends that, where immunisation campaigns are suspended, governments begin rigorous planning now to intensify immunisation activities once the COVID -19 pandemic is under control,".
Afghanistan and Pakistan were struggling to vaccinate children as local populations viewed inoculation teams with

suspicion.
      IASbhai WINDUP: 
UNICEF noted that "sporadic" outbreaks of preventable diseases that can be cured with vaccines, including the measles and diphtheria, have emerged in Bangladesh, Pakistan and Nepal.
     

SOURCES:THE HINDU & PIB/DAILY CURRENT AFFAIRS for UPSC CSE Prelims & Mains
'Anti-graft law covers deemed universities'
      HEADLINES:
'Anti-graft law covers deemed universities'
      WHY IN NEWS:
Officials are 'public servants', says SC
SYLLABUS COVERED: GS 2:Judiciary : Governance : Acts
      LEARNING: 
For MAINS this is an upgrade to anti-graft rules .
Scope and ambit of grafting is being increased , this is one such example !
      ISSUE: 
KEY POINTS FROM THE VERDICT:
VERDICT :
Individuals, authorities or officials connected to a deemed university
,
whatever be their role or designation, come under the definition of a '

public servant

'
.
They can be tried and punished under the anti-corruption law.
Deemed universities come within the ambit of the term 'university' in Section 2(c)(xi) of the Prevention of Corruption (PC) Act, 1988.
A deemed institution under the University Grants Commission Act of 1956 has the same common public duty like a university to confer academic degrees, which are recognised in the society.
      IASbhai WINDUP: 
The object of the PC Act was not only to prevent the social evil of bribery and corruption, but also to make the same applicable to individuals who might conventionally not be considered public servants.
The purpose under the PC Act was to shift focus from those who are traditionally called public officials, to those individuals who perform public duties.
Keeping the same in mind, it cannot be stated that a deemed university and the officials therein, perform any less or any different a public duty,
     

SOURCES:THE HINDU & PIB/DAILY CURRENT AFFAIRS for UPSC CSE Prelims & Mains
International Religious Freedom Report
      HEADLINES:
USCIRF downgrades India in 2020 list
      WHY IN NEWS:
Religious freedom panel lists nation among 'countries of particular concern'
SYLLABUS COVERED: GS 3:Reports
      LEARNING: 
For PRELIMS we will solve this report further in upcoming videos.
      ISSUE: 
A file photo of an anti-CAA protest in New Delhi.
The report, released in Washington by the federal government commission that functions as an advisory body, placed India alongside countries, including China, North Korea, Saudi Arabia and Pakistan.
India was categorised as a "Tier 2 country" in last year's listing.
This is the first time since 2004 that India has been placed in this category.
      IASbhai WINDUP: 
"India took a sharp downward turn in 2019," the commission noted in its report, which included specific concerns about the Citizenship Amendment Act, the proposed National Register for Citizens, anti-conversion laws and the situation in Jammu and Kashmir.
     

SOURCES:THE HINDU & PIB/DAILY CURRENT AFFAIRS for UPSC CSE Prelims & Mains
 Let us 'Discuss'
      IASbhai WINDUP: 
Let us know what you think about this in the comment section.
     

SOURCES:THE HINDU/DAILY CURRENT AFFAIRS for UPSC CSE Prelims & Mains
Subcribe now

for DAILY CURRENT AFFAIRS for UPSC and many more updates !