Malayan Giant Squirrel | UPSC
      HEADLINES:
First-ever study has grim prognosis: native squirrel could vanish from NE after 2050
      WHY IN NEWS: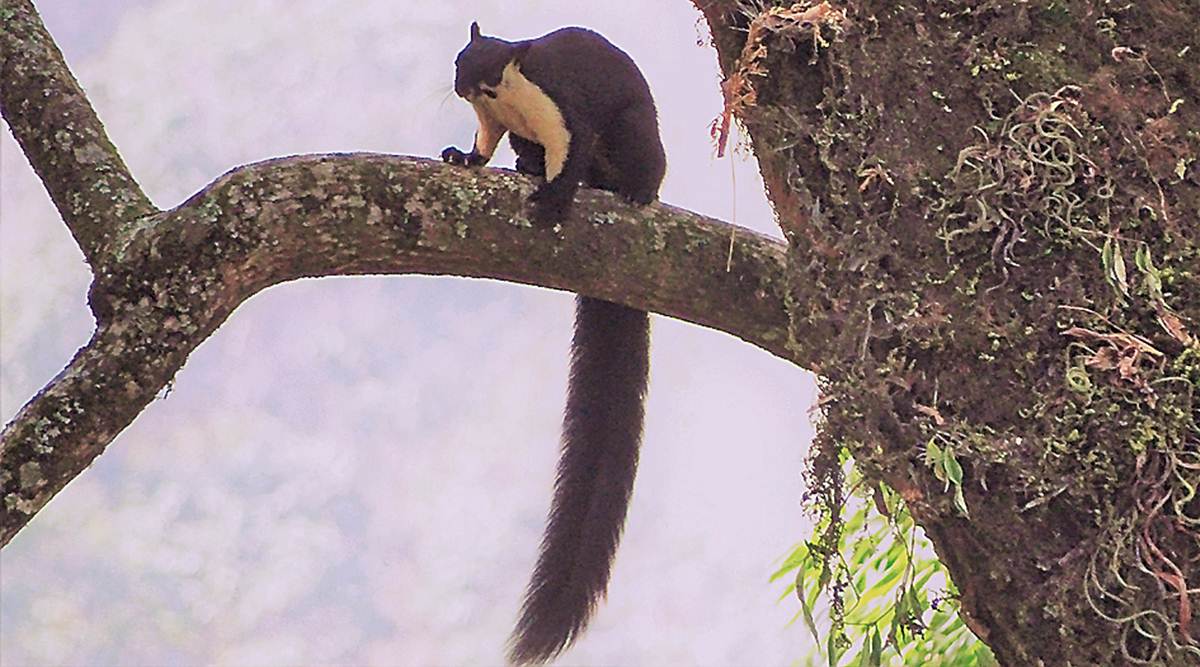 Numbers of Malayan Giant Squirrel could decline by 90% by mid-century (Source: ZSI)
SYLLABUS COVERED: GS 3: Conservation of Biodiversity : Flora and Fauna
      LEARNING: 
For PRELIMS it is important to go through the IUCN status , behaviour , features and its role in ecosystem .
For MAINS can you design a conservation management plan for such species ? Let us dive in !
      ISSUE: 
The large tree squirrel is considered to be a "forest health indicator species"and  is disappearing.
ZSI STUDY
It may by the middle of this century no be longer found in the forests of India's Northeast to which it is native.
A first-of-its-kind study by the Zoological Survey of India (ZSI) under the Union Ministry of Environment, Forest and Climate Change.
KEY FINDINGS
ZSI has projected that numbers of the Malayan Giant Squirrel (Ratufa bicolor) could decline by 90 per cent in India by 2050.
Only 43.38 per cent of the squirrel's original habitat in India is now favourable to it.
By 2050, the favourable zone could shrink to 2.94 per cent of the area the species was meant to inhabit.
If urgent steps are not taken, the species could be extinct in the country in subsequent decades.
Destruction of its habitat could restrict the squirrel to only southern Sikkim and North Bengal by 2050, according to the ZSI.
India is home to three giant squirrel species
Malayan Giant Squirrel
Indian Giant Squirrel and
Grizzled Giant Squirrel – found in peninsular India.
OVERVIEW
The Malayan Giant Squirrel, one of the world's largest squirrel species.
It has a dark upper body, pale under parts, and a long, bushy tail. 
This species is typically distinctly bicoloured .
On small islands off Myanmar and in the Strait of Malacca the black giant squirrel has reddish-yellowish underparts.

MALAYAN GIANT SQUIRREL
DISTRIBUTION
Black giant squirrels are distributed from Nepal in the west to Indonesia in the east.
It is currently found in parts of West Bengal, Sikkim, Assam, Arunachal Pradesh, Meghalaya, and Nagaland.
They can be found across various altitudes, from 500 m to 2500 m above sea level.
This giant squirrel inhabits tropical and sub-tropical

broad-leaved forests.

It is one of the largest squirrels of the world, an iconic species that lives in the top canopy.
It is found mostly in evergreen and semi-evergreen forests, from plains to hills.
BEHAVIOUR
Like most tree squirrels they are a solitary animals, although they occasionally are seen in groups or pairs during the breeding season. 
Like most squirrels, black giant squirrels eat fruits and nuts.
Unlike the nocturnal flying squirrels, giant squirrels are diurnal, but arboreal (tree-dwelling) and herbivorous like the flying squirrels.
ROLE IN ECOSYSTEM
The black giant squirrel plays several roles in the ecosystem, from dispersing seeds to regulating plant populations.
It is also important prey for several small carnivores and raptors. 

 
Deforestation, degradation, and hunting have taken a toll on this species.
POPULATION
The population of the squirrel in India declined by 30 per cent over the last two decades.
While the forest area in the Northeast increased by 7,172 sq km from 1987 to 2013, the region lost 628 sq km of forests over the two years that followed.
Of the roughly 1.84 lakh sq km of the squirrel's range in Asia, about 8.5 per cent (15,635 sq km) is in India.

 
In India, some 20% of the population of the species is found at elevations between 1,500 m and 2,700 m.
The rest live in the plains and up to 1,500 m.
LIFESPAN
The average lifespan for black giant squirrels is 18 years in captivity.
There are very few records detailing the lifespan of black giant squirrels all of which have been collected from captive, wild-born specimens.
THREATS
According to the study, the Malayan Giant Squirrel and its habitat are under threat from
Deforestation

Fragmentation

of forests
Crop cultivation and over-harvesting of food
Illegal

trade

in wildlife

Hunting

for consumption
Slash-and-burn

jhum cultivation
IUCN STATUS
The species is listed as Near Threatened on IUCN's 2016 list, and it is protected under India's Wildlife Protection Act.

SOURCES : IUCN RED LIST
      IASbhai WINDUP: 
We hadn't studied giant squirrels comprehensively in this country so far.
Malayan Giant Squirrel was fast losing its territory to human settlements and crop cultivation.
If the state does not come up with a conservation management plan for the Malayan Giant Squirrel quickly, we may lose the species altogether in India.
     

SOURCES:   IE  | Malayan Giant Squirrel | UPSC
Must Read Articles :
If you liked this article, then please subscribe to our YouTube Channel for Daily Current Affairs , Editorial Analysis & Answer writing video tutorials. You can also find us on Twitter and Facebook.