IASbhai DAILY CURRENT AFFAIRS + PIB: 19th DECEMBER
"Look back and be grateful Look ahead and be hopeful Look around and be helpful."
Year End Review -2019 #MOPNG
      HEADLINES: 
Year End Review -2019 of Ministry of Petroleum & Natural Gas
      WHY IN NEWS:
Several initiatives taken by Ministry of Petroleum and Natural Gas to address the priorities like Energy Access, Energy Efficiency, Energy Sustainability and Energy Security
SYLLABUS COVERED: GS 2:Schemes and Policies
      LEARNING: 
For PRELIMS we have listed them down . Just go through it and we hope you have digested all of them.
For MAINS relax your brain muscles and set them free from such articles ! They are bulky 🙂
      ISSUE: 
Oil and Gas being the important import for our economy, many initiatives have been taken by the Ministry for increasing production and exploitation of all domestic petroleum resources to address the priorities like Energy Access, Energy Efficiency, Energy Sustainability and Energy Security.
PRADHAN MANTRI UJJWALA YOJANA (PMUY)
OBJECTIVE : to provide clean cooking fuel to poor households, especially in rural areas ensuring universal coverage of LPG as cooking gas in the country
LAUNCH : The Government launched Pradhan Mantri Ujjwala Yojana (PMUY) in May 2016, with an initial target of 5 crore.
BENEFICIARIES: It was further revised to providing 8 crore connections to an adult woman of poor households by March, 2020, which has already been achieved on 7th September, 2019 i.e. 7 months ahead of the target.
OUTCOME : Implementation of this scheme enhanced economic productivity and quality of life of women, by removing drudgery associated with collection of wood. The free time, thus, available with them, can be utilized in multi spheres for improving their life standards.
OBJECTIVE :
The Government, as a measure of Good Governance, has introduced well targeted system of subsidy delivery to LPG consumers through PAHAL.
The initiative of the Government was aimed at rationalizing subsidies, based on approach to cut subsidy leakages, but not subsidies themselves.
LAUNCH :
PAHAL Scheme was launched on 15th November 2014, initially in 54 districts.
It was subsequently extended to rest of the country from 01.01.2015 for providing the direct benefits transfer of LPG subsidy to the bank account of the LPG consumers.
As on 13th December 2019, 25.84 crore LPG consumers have joined the PAHAL Scheme and Rs. 1,22,666.82 crore have directly been transferred to the bank accounts of LPG consumers.
OUTCOME :
PAHAL Scheme has been designed to ensure that the benefit meant for the genuine domestic customer reaches them directly and is not diverted.
The scheme has helped in identifying 'ghost' connections, multiple connections and inactive connections which in turn has resulted in curbing diversion of subsidized LPG to commercial purposes.
REFORMS IN EXPLORATION AND LICENSING POLICY
OBJECTIVE : The objective  to intensify exploration activities, attract foreign and domestic investment and enhance domestic production.
LAUNCH : The Government notified 'Reforms in Exploration and Licensing Policy, for enhancing domestic exploration and production of oil and gas' on 28th February 2019,
SALIENT FEATURES :
Shifting of focus from 'revenue' to 'production maximisation'.
No Revenue Sharing with Government in Category- II & III sedimentary basins.
Boost to exploration activities by assigning greater weightage to exploration work programme.
Shorter exploration period for early development.
Fiscal concessions for early monetization and commercial production.
Marketing and Pricing freedom for natural gas.
The policy envisages bidding out of 66 small and marginal producing nomination fields operated by National Oil Companies (NOCs) to have collaboration with private E&P players for inducting new and innovative technology, infusing fresh investment and best management practices to enhance production of oil and gas by adopting Enhanced Oil Recovery/Improved Oil Recovery (EOR/IOR) methods.
Promoting Ease of Doing Business
PETROLEUM EXPLORATION LICENSES
Central Government has already granted Petroleum Exploration Licenses (PELs) for all the offshore blocks and also recommended to all the concerned State Governments to grant PELs for all on-land blocks allocated under Hydrocarbon Exploration and Licensing Policy (HELP) regime.
NATIONAL DATA REPOSITORY (NDR)
OBJECTIVE :The NDR was established by the Government to assimilate, preserve and upkeep the vast amount of data which could be organized and regulated for use in future exploration and development, besides use by R&D and other educational institutions.
LAUNCH : The operation of NDR was formally launched on 28th June, 2017 in DGH Office, Noida.
OUTCOME :
Total data uploaded in NDR till 30 November, 2019 is 2.30 million line kilometres of 2D Seismic Data, 0.78 million square kilometres of 3D Seismic data and 17588 exploratory wells.
The data availability in NDR will help investors to carve out blocks for submission of expression of interest under OALP.
AUTO FUEL VISION AND POLICY
 Introduction of BS-IV & BS-VI fuels in the Country:
Ministry of Petroleum & Natural Gas vide order dated 19.01.2015 has notified for implementation of BS-IV Auto Fuels in the entire country.  Accordingly, BS-IV Auto Fuels has been implemented in the entire country w.e.f. 01.04.2017.
It has also been decided that the country will leapfrog directly from BS-IV to BS-VI fuel standards and BS-VI standards will be implemented in the entire country w.e.f. 01.04.2020.
Considering the serious pollution levels in Delhi, the Government has already commenced supply of BS-VI in National Capital Territory (NCT) of Delhi w.e.f. 01.04.2018.
The Government has also started supply of BS-VI auto fuels in 20 Districts of Rajasthan, Uttar Pradesh & Haryana adjoining NCT of Delhi.
Government of India has identified the requirement of development of additional 15000 Km of Gas Pipeline and various pipeline sections to complete the Gas Grid.
PSUs which are part of National Gas Grid are as under:
Jagdishpur – Haldia&Bokaro – Dhamra Pipeline Project (JHBDPL)
Barauni to Guwahati Pipeline
North East Gas Grid
Kochi-Koottanad- Bangalore-Mangalore (Ph-II) Pipeline Project (KKBMPL)
PROMOTION OF LNG / CNG IN VEHICLES
As on October, 2019, about 55.17 lakh households are availing the benefit of domestic gas in the form of PNG for cooking purpose.
Oil & Gas companies along with its Joint Venture/ subsidiary CGD companies have firmed up plans to expand the coverage of PNG network to achieve additional 1 Crore PNG households by 2024.
The Government has given priority in allocation of domestic gas (the cheapest gas available in country) for supply to households in the form of Piped Natural Gas (PNG)(Domestic) and Transport segment in the form of Compressed Natural Gas (CNG)(Transport) across the country.
City Gas Distribution (CGD) networks have been declared as a "Public utility" under Industrial Dispute Act (IDA) 1947. At present (October, 2019), 1838 CNG stations are making available CNG to meet the requirement of 34.54 Lakh CNG vehicles in the country.
Government is meeting 100% gas requirement of PNG (Domestic) and CNG (Transport) segment of the City Gas Distribution (CGD) networks across the country.
INTERNATIONAL COOPERATION/AGREEMENTS
The 13th Edition of India's flagship hydrocarbon Conference, PETROTECH-2019 was organised in February 2019 in New Delhi. This biennial International Conference presents the Indian hydrocarbon sector prevailing global oil and gas dynamics.
On 22nd September 2019, Hon'ble PM hosted a roundtable for CEOs of US Energy sector in Houston. During the event, Tellurian and PLL signed an MOU wherein PLL and its affiliates intend to negotiate the purchase of up to 5 MMTPA of LNG from the proposed Driftwood LNG project.
India co hosted AMER8 (Asian Ministerial Energy Roundtable 8) in Abu Dhabi in September 2019. India will host AMER9 in Indian in 2021.
On 10th September 2019, Hon'ble PM and H.E. PM of Nepal, jointly inaugurated South Asia's first cross-border petroleum products pipeline from Motihari in India to Amlekhgunj in Nepal through video conference.
On 5th October 2019, Hon'ble PM and H.E. Sheikh Hasina, PM of Bangladesh jointly inaugurated the project to Import of Bulk LPG from Bangladesh through video-link.
On 8-9 Oct 2019, Minister PNG jointly inauguration the completed infrastructure works funded by Mongolia for the Oil Refinery in Shainshand, Mongolia. The refinery project is funded by India under LOC.
The 3rd meeting of ITT (International Think Tank) was held in New Delhi on 13th October 2019 to discuss the challenges and the way forward for the Indian oil and Gas sector for the future.
The 3rd Edition of CERAWeek India Energy Forum event held in New Delhi from 14th – 15th October, 2019. During the event, Minister for Petroleum & Natural Gas met with CEOs of global oil and gas majors.
An MoU signed between Indian Strategic Petroleum Reserves Limited (ISPRL) and Saudi Aramco for exploring opportunity to fill two caverns in Padur SPRs.
An MoU was signed between MoPNG and Ministry of Energy of Russia on use of Natural Gas in transportation sector on 05th September 2019.
ETHANOL BLENDED PETROL (EBP) PROGRAMME
Ethanol Supply Year (ESY) 2018-19, 188.57 crore litre of Ethanol has been procured by OMCs for blending purpose.
For ESY 2019-20, the Government has fixed an enhanced remunerative price for ethanol procurement.
Sugar and sugar syrup have been allowed for the first time for ethanol production to support the industry in liquidating their excess stocks. Government has published a long-term ethanol procurement policy so that the industry can take a long-term view on fresh investments in this sector.
The amended provisions of Industries (Development & Regulation) Act, giving control on production, movement and storage of ethanol to the Central Government, have now been implemented in 13 States.
Under this scheme, proposals for assistance have come from IOCL (Panipat plant), BPCL (Bargarh), HPCL (Bhatinda), MRPL (Davangere), and NRL (Numaligarh) apart from IOC R&D for a Demonstration plant at Panipat.
      IASbhai WINDUP: 
Revise the above article one more time before moving further ! Its volatile .
      SOURCES:  PIB
Bangladesh gives river panel meet a miss
      HEADLINES: 
Bangladesh gives river panel meet a miss
      WHY IN NEWS:
Sources in the Bangladesh High Commission said they did not have "any knowledge of the delegation's plans", hinting that the JRC meeting will not be held as scheduled.
SYLLABUS COVERED: GS 2: River linking Project
      LEARNING: 
For PRELIMS we should look for the geographical importance of river Feni and how it is important to India Bangladesh relations .
For MAINS questions can be asked on your opinion on JRC.
      ISSUE: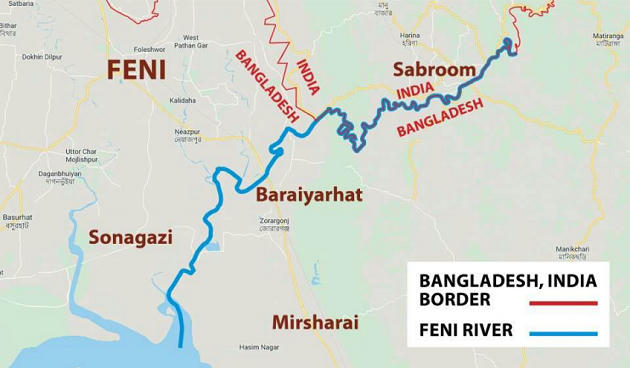 Benefits:
As on date, there is no water sharing agreement on Feni river between India and Bangladesh.
The present supply of drinking water to Sabroom town is inadequate.(Southern tip Tripura)
The ground water in this region has high iron content. Implementation of this scheme would benefit over 7000 population of Sabroom town .
Bangladesh had agreed to let India withdraw 1.82 cusecs from the river to supply the border town of Sabroom in the northeastern State.
      IASbhai WINDUP: 
That apart, the meeting cancellation is expected to delay the preparation of the draft framework for the Interim Sharing Agreements regarding the Manu, Muhuri, Khowai, Gomati, Dharla and Dudhkumar rivers that were also mentioned in the Joint Statement. This is the third cancellation of engagement by Dhaka after Foreign Minister A.K. Abul Momin and Home Minister Asaduzzaman Khan called off their visits to New Delhi and Meghalaya last week.
It was understood that the cancellations indicated Dhaka's displeasure over repeated reference by India's political leadership to the alleged persecution of religious minorities in Bangladesh.
      SOURCES:  THE HINDU 
Centre cautious on framing CAA rules
      HEADLINES: 
Centre cautious on framing CAA rules
      WHY IN NEWS:
Intelligence Bureau monitoring and compiling details of all agitations
SYLLABUS COVERED: GS 2:Citizenship
      LEARNING: 
For PRELIMS revise Laxmikants chapter once more!
For MAINS though UPSC does not invoke any controversial issues in exam , Its better to just skim through this issue.
      ISSUE: 

The Intelligence Bureau is monitoring and compiling the details of all the protests related to the CAA. It apprised the government on Wednesday of eight major protests in Assam, Tripura, Manipur, Arunachal Pradesh and Delhi.
The CAA allows citizenship on the basis of religion to undocumented non-Muslim communities from Pakistan, Afghanistan and Bangladesh who entered India on or before December 31, 2014.
There are apprehensions and fear that the Act, followed by a country-wide National Register of Citizens (NRC), will benefit non-Muslims excluded from the citizens' register, while excluded Muslims will have to prove their citizenship.
      IASbhai WINDUP: 
"The rules are still under construction, and we have decided not to rush things through. Any decision on how much time the applicants will get to file citizenship claims under the CAA is being worked out,"
We will take up this issue in upcoming editorials once again.
      SOURCES:  THE HINDU 
Rajbongshis oppose CAA
      HEADLINES: 
Rajbongshis oppose CAA, but back NRC
      WHY IN NEWS:
The Rajbongshis are all set to shut down parts of north Bengal from January in protest against the Citizenship (Amendment) Act.
SYLLABUS COVERED: GS 1:3:Tribes
      LEARNING: 
For PRELIMS you have to through RAJBONGSHIS .
      ISSUE: 
ORIGIN :
According to historian Kanaklal Barua, the term 
Koch
 is of aboriginal origin and is used to refer to an ethnic group from 
Kamarupa-Kamata 
kingdom.
TRADITION :
Koch Rajbongshi tribe has an oral tradition of
agriculture, dance, music, medical practices, song, building of house, culture and language
. Ideally the tribe transfer the know how from one generation to another.
CULTURE :
The main musical forms of Koch Rajongshi(Koch) culture are
Kamatapuri Folk Song,

Bhawaiyya, chorchunni, palatia, lahankari, tukkhya
, among many others.
      IASbhai WINDUP: 
      SOURCES:  THE HINDU 
Sahitya Akademi Awards
      HEADLINES: 
Sahitya Akademi announces annual Sahitya Akademi Awards in 23languages today
      MINISTRY:
Ministry of Culture
SYLLABUS COVERED: GS 1:AWARDS
      LEARNING: 
For PRELIMS understand the meaning of this award and dont forget the ministry above !
      ISSUE: 
The Sahitya Academy Award is a literary honour in India, which the Sahitya Akademi, India's National Academy of Letters, annually confers on writers of the most outstanding books of literary merit published in any of the major Indian languages (24 languages, including the 22 listed in the Eighth Schedule of the Indian Constitution recognised by the Sahitya Akademi, New Delhi.
The award's purpose is to recognize and promote excellence in Indian writing and also acknowledge new trends.
The annual process of selecting awardees runs for the preceding twelve months.
      IASbhai WINDUP: 
The Award in the form of a casket containing an engraved copper-plaque, a shawl and an amount of Rs. 1,00,000/- towards cash content will be presented to the authors of these books at a special function to be held on 25 February 2020 at New Delhi during the Festival of Letters organized by Sahitya Akademi.
      SOURCES:  PIB 
Anti Hijacking Exercise
      HEADLINES: 
Anti Hijacking Exercise conducted by Southern Naval Command
      MINISTRY:
Ministry of Defence
SYLLABUS COVERED: GS 3:Defence:Exercise
      LEARNING: 
For PRELIMS you need to know what is this exercise all about !
For MAINS trust IASbhai ! These exercise when given as examples to take a stand fetch lots of marks .
      ISSUE: 

VENUE :The Indian Navy, in collaboration with Indian Coast Guard, Cochin Port Trust and all other concerned stake holders, conducted a large scale Anti Hijacking Exercise off the Port of Kochi on 18 Dec 19.
FEATURES:
This was the first time that such a large scale exercise involving all stake holders has been conducted in Kerala.
As part of the scenario, interdiction of a 'rogue' vessel outside Kochi port and insertion of Marine Commandos onto the rogue/hijacked vessel through boarding operations, as well as slithering down onto its deck from a Sea King helicopter, were exercised.
The Exercise 'Apharan' was aimed at streamlining the response mechanism/ preparedness to thwart any attempt by Anti-National Elements to hijack a merchant vessel or attempt forced entry of a rogue/commandeered merchant vessel into Kochi harbour.
Within the ambit of Coastal Security architecture, hijacking of a merchant vessel is one of the challenging scenarios, response to which requires synergy of resources, assets and efforts of all stake holders including the State Govt.
      IASbhai WINDUP: 
The exercise provided an opportunity to all stakeholders to assess the preparedness of their respective organisations, identify gaps to address them on priority as well as to formulate an integrated Crisis Management Plan for Kochi Port.
      SOURCES:  PIB 
Tri-Service Exercise Indra
      HEADLINES: 
Sea Phase of Indo-Russian Tri-Service Exercise Indra Off Goa
      MINISTRY:
Ministry of Defence
SYLLABUS COVERED: GS 3:Defence:Exercise
      LEARNING: 
For PRELIMS you need to know what is this exercise INDRA and the key drivers of this exercise this year.
      ISSUE: 
INS Aditya, a 24,612 ton displacement Fleet Replenishment Tanker, was commissioned into the Indian Navy at Kolkata on April 3, 2000.
INS Aditya was indigenously built by M/S Garden Reach Shipbuilders and Engineers (GRSE) Ltd,

Calcutta.

The ship is 172 metres in length and can achieve a speed of 20 knots at a dead weight displacement of 1700 tons.
The hallmark of its features is that it has an endurance of ten thousand nautical miles at a speed of 16 knots.
She is powered by two Man B&W diesel engines of about 2000 HP each and can replenish four ships simultaneously with liquid and solid cargo.
The ship has been equipped with a special facility for transferring solid cargo.
The facility to carry integral helicopter gives her the added ability to cater to various contingencies such as search and rescue at sea and reconnaissance.
The ship is equipped with close-in weapons namely guns and missiles for self-defence.
The ship, on being commissioned, joined the Eastern Fleet under the operational command of the Flag Officer Commanding-in-Chief, Eastern Naval Command.
The name INS Aditya symbolises the sun- the source of all life on this planet.
'Aditya' is metaphor of the power of sustenance of the sun and bountiful energy.
It encompasses the spirit of the ship : "Sustenance for Victory and Beyond".
The ship is manned by 16 officers and 140 sailors.
It is a potent frontline frigate and second Talwar-class frigate constructed for the Indian Navy. It is part of 2nd batch of Teg-class frigates ordered by Indian Navy and was built at Yantar shipyard in Kaliningrad, Russia.
It was commissioned on 9 November 2012 and is equipped with a versatile range of weapons and sensors.
The ship is part of Indian Navy's Western Fleet. It is under Operational Command of Flag Officer Commanding-in-Chief, Western Naval Command, based at Mumbai, Maharshtra.
      IASbhai WINDUP: 
INS Tarkash, INS Aditya and RuFN ship Yaroslav Mudry participated in an Encounter Exercise and cross-deck flying on the same day. Sea riders were also exchanged between the Indian and Russian ships which was followed by an Air Defence exercise involving four MiG29K aircraft.
Other exercises included firing practice, aviation operations and other manoeuvres like maintaining station and replenishment at sea.
      SOURCES:  PIB 
THINK A MINUTE :